West Oberland Ski Haute Route

Week 11, 12th to 17th March inclusive. 6-day course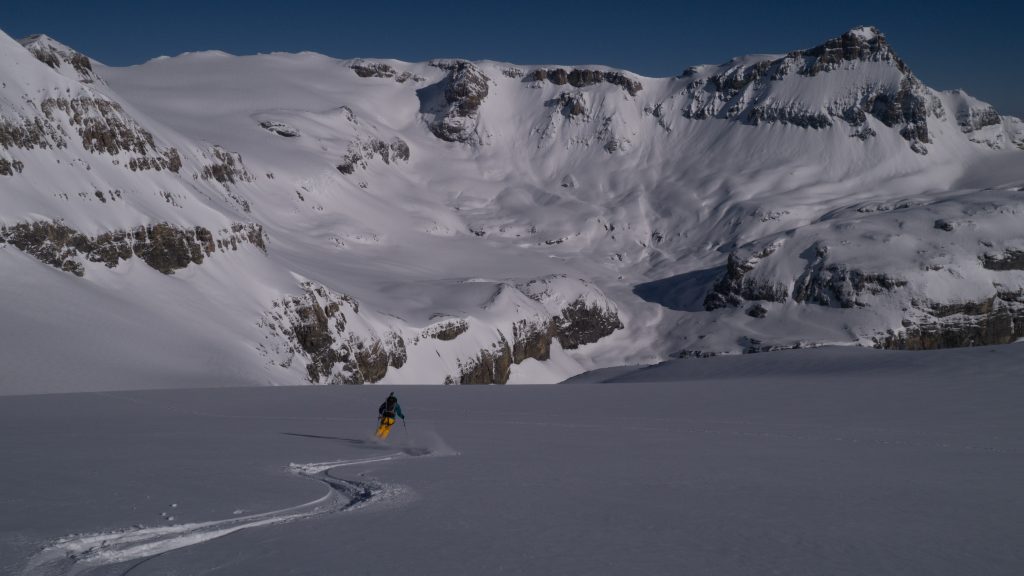 Cost

Approximate costs for this trip are:
Hut half pensions at sfr75 pp (discount for alpine club members) x 4 = sfr300, Hotel B&Bs at sfr45 x 2 plus evening meal budget sfr30 = sfr150, lifts Glacier 3000 Sfr50, picnics sfr50. Plus guide accommodation and uplift per person Sfr100 Internal taxi and train transportation on tour sfr100
Total budget for the course expenses Sfr750 (£600) per person.
Group Size; 1:4 minimum 1:6 maximum.
Guiding costs per person for 6 days guiding are dependent on the number attending.
4 members: £700 each
5 members: £600 each
6 members: £550 each

BOOK HERE

Tour Overview
The West Oberland Ski haute route traverses the alpine range between the villages of Les Diablerets and Kandersteg. It is a delightfully scenic ski tour offering fantastic ski descents in a quiet corner of Switzerland. The tour is not as glaciated or the mountains as dramatic as those around the 4000m peaks, but it has its own charm and is a good warm up tour for those considering the Chamonix Zermatt haute route. This ski tour does, however, contain some slightly exposed passages and can be difficult to navigate in poor weather.

The route traverses over the summits of Les Diablerets, Arpelistock, Wildhorn, Schnidehore and Wildstrubel which are all around 3200m high, with the huts lying between 2000m and 2500m. A summit can be taken every day between the huts, which cannot be said for all alpine tours, and the ski descents from these summits are on open slopes and most having more than 1000m in vertical descent. If we are lucky with the conditions the final ski into Kandersteg, can give over 1500m of vertical descent or to Lenk by a 2km vertical on northerly slopes.
The route boasts magnificent views of the Valaisanne peaks to the south and the Bernese peaks in the east, as you weave your way across the west Bernese Oberland chain. The landscape is defined by steep dramatic limestone cliffs through which the route snakes its way on largely open slopes. The limestone strata and rock folding on the Wildhorn is particularly impressive.

Itinerary
Meet Leysin Saturday 6.30pm at the Hotel Tour d'Ai Leysin.
Sunday
The week begins with a ski-mountaineering day on the peaks around Leysin, checking equipment, refreshing touring and off-piste skills during ascents of peaks such as Pic Chaussy, La Para or Walighurli (each of which gives an excellent view of our route through the Western Oberland).
Monday
We take the Glacier 3000 lift system to the Diablerets Glacier and descend to the col de Sanetsch then ascend the fine crest of the Arete de L'Arpille (800m) to gain the summit of the Arpelistock (3035m). The descent (1000m) down to the Geltenhutte (fresh coffee and showers available) is normally on great cold snow.
Tuesday
A big day over the major ski-touring summit of the Wildhorn (3247m, 1400m ascent, 5 to 6hrs) and down to the Wildhorn hut. The route spirals around the peak, taking us through the impressive cliffs that defend its summit. Another fantastic glacier ski descent (1000m) takes us to the Wildhorn hut.
Wednesday
We climb the Schnidehorn (2937m, 3hrs) which is a great little summit and gives us access to a superb narrow valley which takes us to the flat expanse of the snow plateau of the Alpage du Rawil (2300m, 650m descent). The Rohrbachstien (2950m) can be climbed as we climb to the newly renovated Wildstrubel hut (2800m). The Wildstrubel hut has an excellent reputation for its food (the apple tart and fresh coffee are recommended).
Thursday
After a short ascent to the Weishorn (2950m, 40 mins) we have a great ski down to the glacier de Plaine Morte. Touring across the massive expanse of this glacial plateau evokes a powerful feeling of wilderness. We then ascend the south rib of the Wildstrubel(3243m, 600m ascent). With its ten summits over 3000m it is a fantastic viewpoint for the great Oberland peaks. We traverse most of these summits before descending yet another classic run (800m) to the Lämmerenhütte. Friday
From the Lämmerenhütte we climb to the domed summit of the Roter Tot (2850m, 2hrs) then an intricate north-facing descent takes us down 1600m into Kandersteg, skiing beneath impressive rock architecture of towering limestone cliffs.
Alternatives involve climbing the Schwarzhorn descending les Faverges to Montana or climbing the Grosstrubel (via the Wildstrubel) to descend to Lenk an amazing 2km vertical descent.
Train or taxi back to Leysin
Photos of the West Oberland Haute Route…